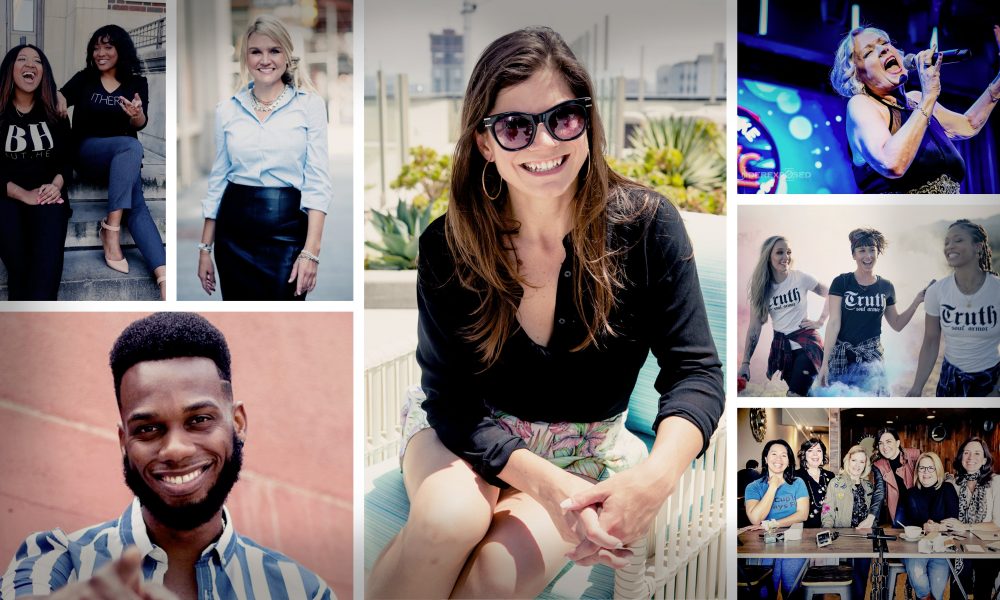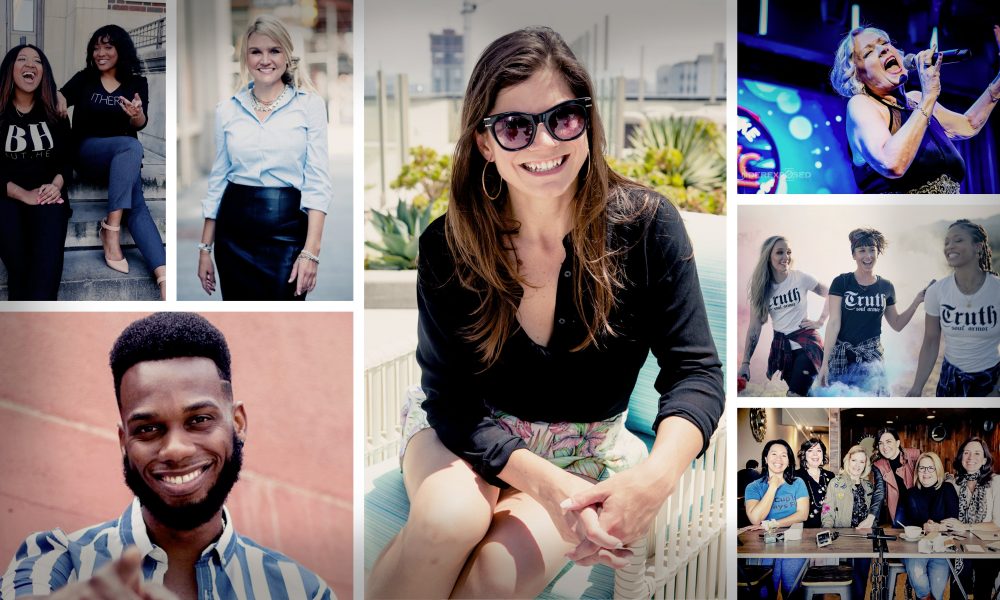 The heart of our mission is to find the amazing souls that breathe life into our communities. In the recent weeks, we've had the privilege to connect with some incredible artists, creatives, entrepreneurs and rabble rousers and we can't begin to express how impressed we are with the incredible group below. Check out our favorite stories from across the Voyage family.
Nikkia Washington

I've always been a fashion lover. When I was a little girl, I would change my clothes 20 times a day because I loved putting outfits together and dressing up. I just thought that I liked clothes. I didn't find my purpose until my life got completely turned upside down a couple of years ago. I was married and a stay at home mom to my one-year-old son. I was also pregnant with my daughter when I found out I would be going thru a sudden divorce. Over the next few months, I watched my life fall apart while I simultaneously carried my daughter thru a high-risk pregnancy, cared for my 1-year-old, put myself back on the job market, and fought thru a divorce. Read More >>
Emiliano Torres

My story is somewhat strange. Music found me and I started playing the trumpet by mistake in middle school. I didn't pick band but they made me stay in that class and after I tried the trumpet, I fell in love with music. I started playing in bands and "gigging" while in high school. During my junior year in college, I began touring with a Grammy winner and that's when I became a professional musician, touring and making money. Right after that, I joined a band named Locos por Juana in around 2003 and that's when I started writing and arranging music. We got nominated for a Grammy and Latin Grammy soon thereafter. Read More >>
Kylie Wadsworth
Moving to a new city and building clientele is always a challenging move. I've been lucky enough to have met some amazingly talented people along the way and been in some pretty amazing salons. I worked with a few girls for weddings to dip my toes in a loved it right off the bat. When I started doing hair the woman I assisted for found out my dislike for updos and made me knock a few out every day on a doll head, and it was one of the things that's just kind of turned into magic. I've taken classes by some of the best and am constantly trying to learn new tricks. I think the biggest challenges in our industry is how fast it changes. I always love a good challenge and it loves trying to keep up with the trends. Read More >>
Zonta

I came from an entertainment family, so it was the first thing I knew, and I loved it. My mom was trained as an actress by Beah Richards and recorded for people like Tina Turner, while my aunt is Cheryl Lynn whose most famous song "Got to be real" is in Music's Hall of Fame. I was dancing by age three, and by age size I was acting and singing. I always loved this industry and there was never anything else I wanted to do. Read More >>
Tayler Krietemeier and Sara Mancuso

We started our journey about three and a half years ago. After working in the retail industry for many years, and having a great working relationship, we decided to take the plunge and open a store with all the values, price points and friendly atmosphere that we would want to shop at. We first opened Rooted on a side street, off the main area in 2016. We grew really quickly and decided we needed to be on the main street of this amazing neighborhood.  Read More >>
Jen Broyles

I grew up only knowing about conventional healthcare. When you're sick, you go to the doctor, and you get medication. As an adult, I wanted to serve people in the area of wellness, and pharmaceutical sales seemed to be a natural fit. I quickly realized that medications weren't the solution to many of the chronic conditions that are so prevalent today. Then, I started to experience my own health challenges, and the traditional medical route didn't offer the solutions I was seeking. I saw numerous specialists and no one could tell me what was wrong. As I pursued all of the conventional avenues to heal my body, I came up empty-handed, and I was forced to look elsewhere. Read More >>
Elana Berusch

I've been excited about food and feeding people for as long as I can remember, and I've spent most of my life working to find ways to express that enthusiasm. I started working in restaurant kitchens and small bakeries in high school, and while I loved working with food, I found myself asking questions that couldn't be answered in kitchens. Questions like, "How does the browning on the surface of a steak work?" or "Why do cookies turn out chewier when the dough has been chilled?" Read More >>
Cristina Sosa and Sarah MacMillan

Cristina Sosa, Founder of RAW Residency & Sarah MacMillan, Founder of Be Generation Love, both influential entrepreneurs for many years, came together to co-found – THE PAUZE, a cultural experience that transforms through movement and sound.  Read More >>
Marie Fabienne Amisial

I am a creative sponge. I love everything that has to do with individualistic style and fashion. I started styling friends and family for events in 2012 and realized this was something that brought me great joy. While working in the healthcare industry, I had a moment where I decided to pursue another passion I knew would be fulfilling and allow me to stretch my creativity. I decided to move to NYC to study Fashion Design & Fashion Business Management at The New School & Fashion Institute of Technology to learn more about the industry's engine, and be better equipped to style to my heart's content.
Through the hustle & bustle of the city, I dove into working backstage runway shows, emerging brand coordinating, and styling presentations for brands like Kris Harring, Hugo Boss, Kanye West, and Actress/Musician Miriam Hyman. I've had the opportunity to work with brands I admire and would always dream of being a part of! What I've learned from my experiences thus far is to always pursue your passion, never let it go, and allow yourself to stand in your talents. Read More >>
Kristen Ross

Since childhood writing has been my greatest passion, but for the longest time, I doubted whether or not I could make a career of it. Fast forward to 2012 — the year of my early mid-life crisis. By then, I had spent ten years pursuing an acting career, but the wear and tear of it all had ground me down and it felt joyless. I knew I had to make a drastic change, but what? Read More >>
Matt Phillips

After my European professional baseball and Division-1 college baseball career ended, I went into the corporate world, starting in audit and accounting, and then holding various jobs with great companies in the United States and Europe. As I progressed in my career though, I was honestly miserable because I knew there was something more inside me. I remember at one point that I looked in the mirror, was 30 pounds overweight, hated my job, and the worst part, my marriage was in a horrible place. And I knew I needed to change.
I decided to finally take control of my life and future, and I lost the weight and got my marriage back on track. I began to dream, plan, and take action on what my next step could be, finally tapping into that potential within. And during this process, I went through not only a physical transformation but a mental one…and that's when the light bulb went off. Read More >>
Molly Dunn

My filmmaking story starts when I was a graduate student at Oxford University. Up until that point, my focus had mostly been on sports and youth development. Oxford broadened my interests. That's also where I met my future wife and business partner. I started doing simple videos about current social justice topics that I cared about. Once I really started formal training and work in the film industry, I faced sexual harassment and sexism over and over again. It became clear to me that I had to start my own company in order to survive and thrive. Read More >>
Richardson Pierre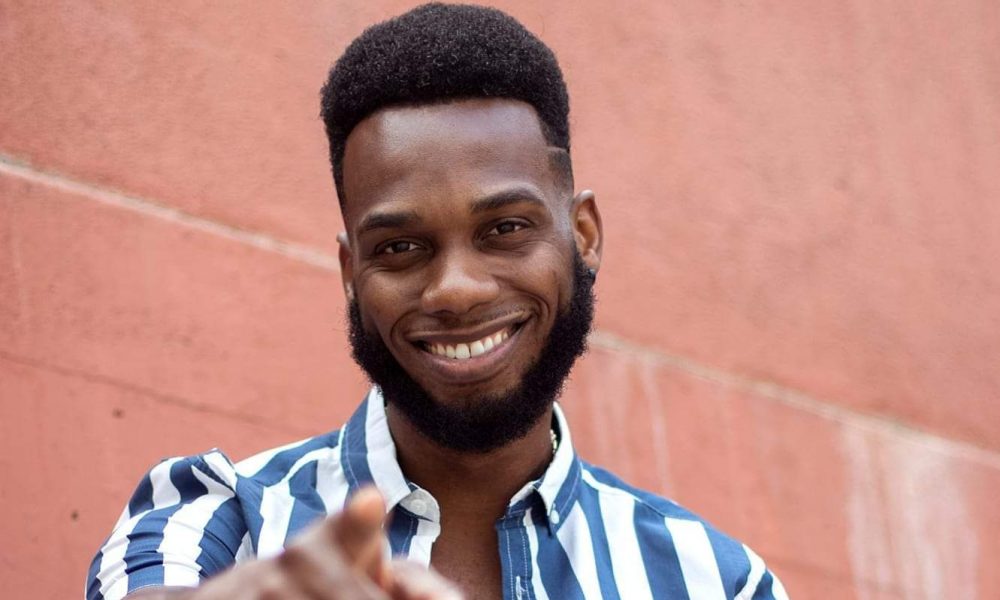 I began my journey on March 9th, 1997 when my mom, sister and I migrated from Haiti to Cambridge Massachusetts. We left 3 of my brothers back on the island because their paperwork was in the process of being approved. Leaving the island and landing in the "Ice box" called Massachusetts was a culture shock to say the least but nonetheless, I was determined. Determined to become one with this new place I would now call home. Though my home was new, the language was foreign to me and even the people surrounding me were different, one thing stayed constant…my dream of one day being in "Hollywood". Rare dream for a kid from the island I might add but nonetheless it was mine. Read More >>
Danielle Uhl
Mostly learning through trial and error, I discovered that the feeling of doing what you love and making money doing it fulfilled me more than any other career. While I understood how difficult it was to get my business started and the personal struggles that came with, it became my mission to help others on their entrepreneurial journey to do more of what they loved while achieving their version of success. Read More >>
Ryan and Andy Mathisen, Sean Mulhern, Drew Lewellyn

We as a collective had the opportunity to help grow a smaller $5m personal lines independent agency into a $100m machine in just under a decade. During this time, we were smack dab in the middle of the equation between the carriers, agencies, and policyholders. In being that common cog, we began to quickly realize the frustrations and inadequacies of the relationships between the three parties, mostly due to the lack of available technology that would best cater to the industry. After searching for an answer, we realized it was going to be on us to build something from scratch and thus, the very first GloveBox was born. Read More >>
Kelly Buckner

After six years in the wedding photography industry, my focus shifted to be a full-time mom to my daughter, Avery. The consummate entrepreneur, artist, and fashion-lover inside me lead me to a new venture… a private-shopping clothing boutique in Kingwood, TX. With the vast background in photography and graphic design, I used my skills to create all my marketing materials and maximized social media to grow my boutique's awareness and sales. The clothing boutique was a great success, and my FB page garnished over 10,000 followers. Read More >>
Tahir Register

After graduating from college in 2013, I saw a void for positive media for people of colour. In lieu of complaining, I decided to do something about it, and that something was TheBLACKMedia.org. I wanted to create a safe space for people of colour in entertainment to exist on without gossip, rumors or negativity because there's already so much of that. Read More >>
Jasmine Butler and Porshia Williams

There has definitely been obstacles and challenges we have faced during this journey. The first thing is each individual having their one life and priorities so it was hard to stay organized and be on the same page. There was also the challenges of not knowing where to start, what order to do things in, and which legal objectives needed to be taken care of first. Thankfully, with research and planning, we were able to get through our obstacles. Even now, the obstacles we face are marketing and getting our business out to more people. We know planning, organizing, and staying ahead is how we will succeed. Read More >>
Hope Marie Hooper

Today, I have my own family. My two sons have had quite the exposure to my business the same as I did as a child in the flower shop. I talk to them about real estate and sales often. They watch and listen to me counsel many individuals and families through their largest financial investments. They know how to correctly pronounce Realtor and I'd be willing to bet they can spell mortgage. I hope that I am showing my sons that I am proud to provide excellent service and top-notch representation to my clients. Read More >>
Yaselyn Perez

A lot of my childhood was filled with music and films. My mom was a talent agent for a few years that reeled in acts such as Ashton Kutcher and Keke Palmer. I would sit in the monologue sessions after school and get lost in the pretend world that these people were itching to live in. I wondered why it all mattered, why people wanted to be someone else, why this art is the best thing to happen to the world. For years, I did not understand it, until the more I studied and practiced, the more I realized that the media realm has the only language that moves everyone—affecting our behaviors, our beliefs, and ultimately our futures. Filmmaking matters because it has the ability to both take us away from ourselves and reel us in deeper—what can be more powerful than that? Read More >>
Erin Cell

After spending entirely too many years in corporate America & going through some major personal losses, I decided something needed to change in my life. I did NOT want to end up feeling like I wasted my life working for someone else & being treated poorly.
So, I quit my corporate job & bought a ticket for Europe for six weeks by myself. This was my first time over the pond & I went alone — it was the BEST thing I have ever done in my life. I was terrified the first week, but once I found my groove, I could have stayed there forever. If you haven't done something that scares the crap out of you — DO IT! Read More >>
Kayla Cartwright

I grew up in Rhode Island and quickly traded snow for sunshine to study at Eckerd College in St. Petersburg, Florida. I studied management and anthropology and had big plans to work in professional sports; I was even interning with an MLB team. Then I got the phone call that changed my entire path. Read More >>
Bradley Soltis

I have spent the better part of the last 15 years working for some big names in the action sports and apparel industry, including Volcom, Metal Mulisha, Sullen Clothing, Paul Frank and Lucky Brand to name a few. Roughly three years ago, I reached out to the staff at Truth Soul Armor to see if I could offer my expertise to fine tune their business. After putting in some sweat equity, we all mutually agreed that the brand could reach new heights with me at the helm. Read More >>